NJ Online Casino Reviews
New Jersey Online Casinos
CasinoOnline.us has reviewed the best online casinos for New Jersey players. Compare the top NJ casino sites for real money play.
NJ Online Casinos
Our online casino reviews are of the top rated NJ online casinos available for real money gaming in 2023. Our iGaming industry experts led by Benjamin Ogden have more than 23 years of experience reviewing internet casinos, poker rooms and sports betting websites.
All of the gaming sites reviewed on CasinoOnline.us are legal, licensed and regulated in the state of New Jersey by the NJ Division of Gaming Enforcement (NJDGE). You can find the official complete list of all online gambling sites licensed in New Jersey on the official NJDGE website here. Our website is the #1 source for ratings reviews of legal online casinos in NJ.
We use referral links to provide advertising for these recommended casinos. This helps us earn income to further develop our website so thank you very much for visiting. We appreciate you!
CasinoOnline.us has a team of iGaming experts that have been reviewing internet casinos for over two decades now spread across many different domains over the years. We know how they work and how to find the best options available. Our standards require that online casino sites meet the highest of standards in order to qualify for a recommendation on this site. Specifically, we look at licensing accreditation, gaming fairness, bonuses, -layer loyalty rewards programs and quality of customer service & support when pre-qualifying NJ online casino sites to be recommended on CasinoOnline.us.
Below you will find our independent reviews of the best New Jersey online casinos of 2023. These are the absolute top rated NJ casino sites that are both legal and licensed in the state.
You can learn more about Gambling Laws in New Jersey by reading this informative Wikipedia NJ gambling page. It explains the New Jersey online gambling laws and history of casino, poker & sports betting operations in the state of NJ.
Best NJ Online Casino Sites
---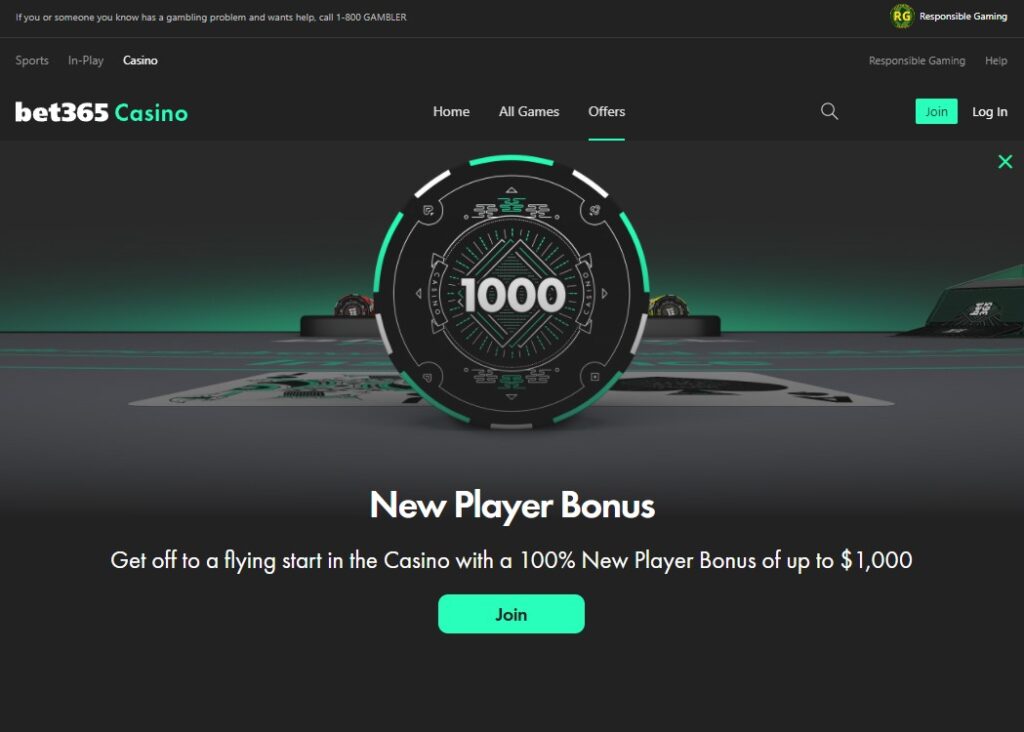 Bet365 NJ Casino Review
#1. Bet365 Casino
Play live dealer games and hundreds of realistic online slots at Bet365 Casino. Bet365 is the world's largest betting site with more than 65 million customers from around the world. Sports gambling is also available on the Bet365 NJ sportsbook.
Players making their first deposit with Bet365 NJ online casino receive a 100% bonus up to $1,000 USD. T&C's Apply. Ages 21+
---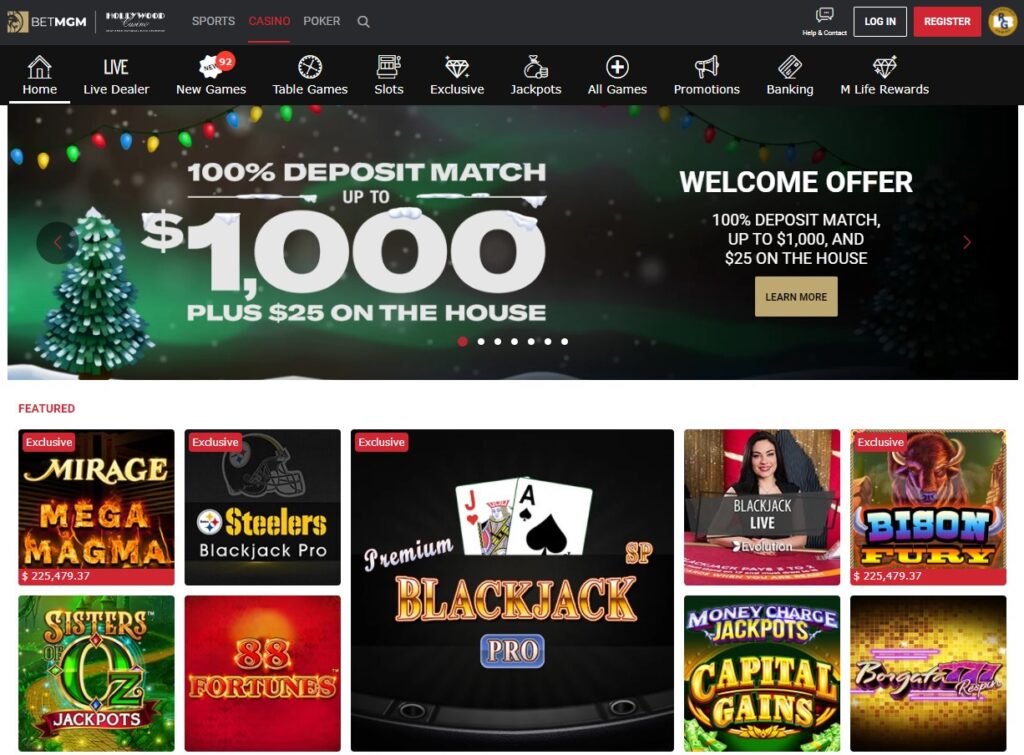 BetMGM NJ Online Casino Review
#2. BetMGM Casino
Experience world class online gaming at its finest levels playing on BetMGM casino. BetMGM offers NJ players first class customer service. Enjoy betting on casino games and sports at BetMGM.
Sign up as a new player with BetMGM and receive a 100% match bonus up to $1,000. Bonus T&C's Apply. Ages 21+
---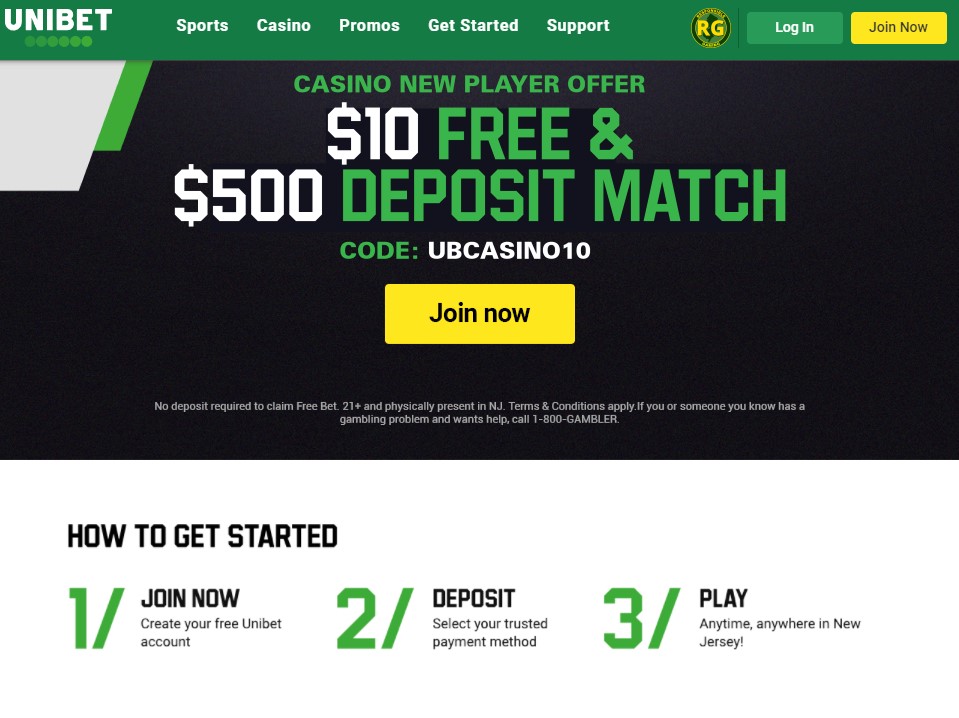 Unibet Casino Review
#3. Unibet Casino
Play slot machines for real money at Unibet Casino. While Unibet is still pretty new in the New Jersey online casino market, they've been a leader in internet betting entertainment in Europe and UK since they launched in 1997.
New players joining Unibet get $10 Free plus a 100% match bonus up to $500. T&C's Apply. Ages 21+
---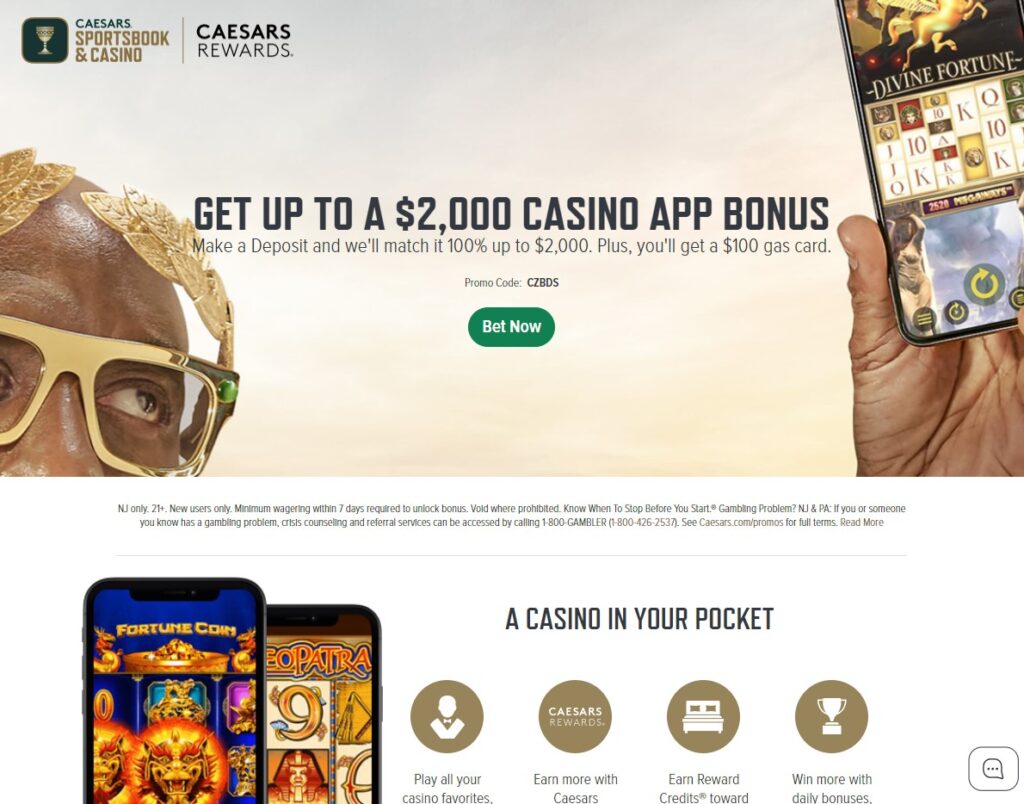 Caesars Casino Review
#4. Caesars Sportsbook and Casino
Join the Caesars Rewards loyalty program at Caesars online casino and sportsbook and receive generous bonuses and promotions only available by Caesars.
New players are greeted with a 100% bonus up to $2,000 USD on the Caesars casino app. T&C's Apply. Ages 21+
---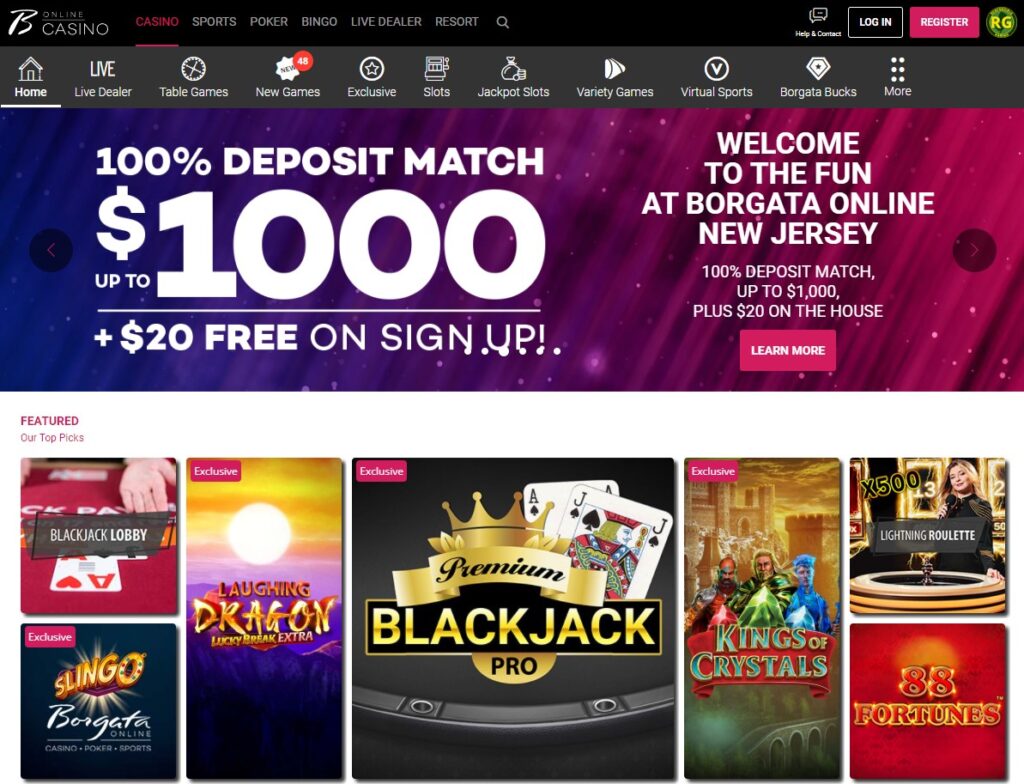 Borgata Online Casino Review
#5. Borgata Casino
Borgata is one of the big casinos in New Jersey offering players the options to play real money casino games from home and on their mobile phones. Play live dealer table games or try spinning the thousands of online slots available at Borgata Casino.
New players are greeted with a 100% bonus up to $1,000 USD + $20 in Free Play Money. T&C's Apply. Ages 21+
---
Problem Gambling Help for NJ Players
Betting both online and offline should be done for recreational entertainment only.
Never bet money you cannot afford to lose.
If you have a gambling problem then we strongly recommend signing up to the NJ Self Exclusion Program on the NJDGE's website.
800-Gambler offers people help for problem gambling with awareness information and resources from the Councill on Compulsive Gambling of NJ.
Introduction to New Jersey Online Casinos
As someone who's passionate about the online casino industry, I'd love to share with you the fascinating history and development of New Jersey Online Casinos. In this guide, we'll explore the evolution of online gambling in the state, including key dates, events, and personalities that shaped the industry. We'll also discuss the legal framework surrounding NJ online casinos and provide you with a comprehensive list of licensed operators to help you make an informed decision. So, let's dive in and uncover the story behind the Garden State's thriving online casino scene.
A Brief History of NJ Online Casino Laws
The journey of New Jersey's online casino industry has been nothing short of remarkable. It all began with the legalization of online gambling in the state. The pivotal moment occurred in 2013, when then-Governor Chris Christie signed Assembly Bill 2578 into law. This groundbreaking legislation authorized the New Jersey Division of Gaming Enforcement (NJDGE) to regulate online gambling, making the state a pioneer in the US online casino market.
Notable Events in New Jersey Online Casino History
Since the inception of online gambling in New Jersey, the industry has witnessed significant milestones. Some of the most memorable dates and events include:
February 26, 2013: Governor Chris Christie signs Assembly Bill 2578 into law, legalizing online gambling in New Jersey.
November 21, 2013: The first legal and regulated online casinos launch in New Jersey, marking the beginning of a new era for the state's gambling industry.
2014 onwards: A steady increase in the number of licensed online casinos and partnerships with renowned gaming software providers contributes to the industry's rapid growth.
Key Figures in New Jersey's Online Casino Scene
Several individuals have played instrumental roles in shaping the New Jersey online casino landscape. Some of these key figures include:
Chris Christie: The former Governor of New Jersey, whose approval of Assembly Bill 2578 paved the way for online gambling in the state.
David Rebuck: As the Director of the New Jersey Division of Gaming Enforcement, Rebuck has been responsible for ensuring a well-regulated online gambling market.
New Jersey's Online Gaming Regulator: NJDGE
The New Jersey Division of Gaming Enforcement (NJDGE) is the state's regulatory body for online gambling. They are responsible for ensuring that online casinos operate within the confines of the law, maintain the integrity of gaming operations, and protect players from fraudulent activities.
Licensed NJ Online Casinos: Complete List
Below, you'll find a comprehensive list of New Jersey licensed online casinos, along with their licensing dates and website URLs:
Conclusion: Discover the Best New Jersey Online Casinos
Now that you're equipped with the knowledge of New Jersey's online casino history and a list of licensed operators, you're well on your way to exploring the vibrant world of online gambling in the Garden State. As you embark on your gaming adventure, remember to play responsibly and choose a licensed casino that adheres to the state's regulations. Happy gaming, and may the odds be ever in your favor!